Hawk Meet & Greet is a series of interviews that immerse you in the dynamic daily life of the company's employees. Each month, discover a new person through a unique and immersive testimony. Meet Christian, Client Development Executive at Hawk.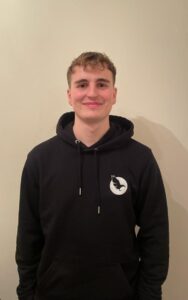 Can you quickly introduce yourself?
I'm Christian, after graduating from the University of York in 2021 I now find myself as a Client Development Executive at Hawk. I have been at Hawk for 1 year now and loving every day as I get challenged to develop my understanding of the programmatic scene.
What exactly is your position and role at Hawk?
My position at Hawk is Client Development Executive, this role entails bridging the gap between UK agencies and their marketing potential through the use of our omni-channel offering. Working with some of the top tier agencies allows me to demonstrate my ability to understand and analyse advertising campaigns to better them in the future through a range of optimisations and recommendations.
What did you appreciate the most when you joined the adventure?
I really appreciate the small team at Hawk, not only does this allow me to have interpersonal relationships across the company, from Client Development through to Ad Operations but it fosters a working environment where I am heard and can make a real difference. Developing strong relationships within the unique team was a key factor when applying to this position, I have always imagined building friendships with my colleagues, and Hawk makes that possible through the organisational culture.
What do your days consist of and what are your daily challenges?
My main responsibility at Hawk is to bridge the gap between agencies and their clients to their actual advertising campaigns, I manage this via weekly reports, end of campaign insights and post campaign analyses. I have also taken on additional workload which includes In-Game championship, where I am the lead point of contact for any market research, news, and updates as well as a general understanding of how the In-Game environment can function programmatically. A recent responsibility has also been to analyse our new Hawk Survey tool which is a new and exciting step into insight generation and furthering my ability to analyse data.
In your opinion, what is your greatest success at Hawk?
My greatest success at Hawk came after Q3 2022, I was top performer in the UK office and got recognition as I won the 'Star of the Quarter'. This newly developed scheme was conceived to give back to the employees who go above and beyond for their team, their agency contacts, and the company as a whole. I was honoured and excited to win this award as I believe my work is no better than any of my colleagues, but it was extremely rewarding to get the recognition of my efforts in such a way and reenforces a great working culture of the company of which I am proud to be a part of.
Question : What three adjectives would your team use to describe you?
Organised, Motivated, Personable.
Finally, what message would you give to future employees?
Coming into the sector, I had no idea of the intricacies of the back end which makes up advertising, let alone programmatic advertising, and without Hawk this opportunity may never have been a reality. I would motivate people to learn new skills and join a company that can push you forward not only professionally but personally too. Hawk is the perfect place to do that, so come and get stuck in.
If you would like to join the Hawk adventure, please check out all the opportunities available by following this link.